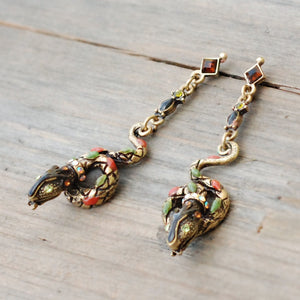 Twin serpents coil right and left at your ears.
Could they be Egyptian tomb treasure? Or, perhaps your auntie's favorites from the 1940s? Doesn't matter; snakes have been popular jewelry icons since jewelry began.
In recent history, popularity was revived by the wedding ring of Queen Victoria--a serpent, the historical symbol of love.
These little snakes are ornamented in luminous enamel in red and blue.
A clear crystal collar encircles their necks.
Montana blue eyes, emerald crystal and black enamel accents their detailed little heads.
Antique Gold metal finish.
Trademark Sweet Romance USA.