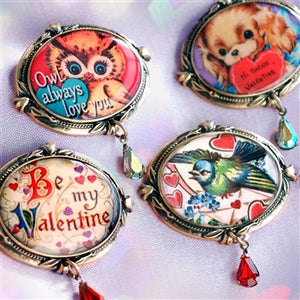 Four little valentines. Four ways to touch your heart or those you care about. The image on each pin is adapted from actual vintage Valentines, each representing a decade from 1930 through 1970. Some may remind you of the kind you exchanged at grade school. Keep them all to yourself or gift special people to share the sweetness of Valentine days past.
These colorful, uplifting images are mounted on a dimensional oval setting with a crystal teardrop dangling below. The four are individually packaged with guarantee card and tags. Handmade in our studios in Los Angeles. Signed Sweet Romance.
"Through the decades, sending roses and heart-shaped boxes of chocolates with a valentine card became tradition..." Read more about the story behind Valentines Cards on our blog.