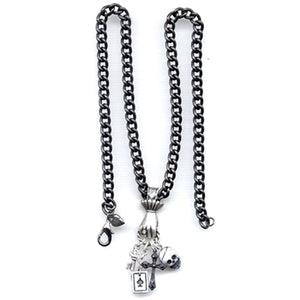 Lucky amulets dangle from a twisted ring held in grasp of a 3-dimensional hand.
Chain is a heavier gauge curb, in keeping with the theme.
Metal finishes are burnished gleaming antique silver and black gunmetal.
Signed and copyrighted Sweet Romance USA.
Shelley's comments: Having lived my life in California, my art is influenced by intriguing local cultural images. Among my favorites are the tarot-like pictures used on the tickets of the Loteria Nacional. It was actually a French entrepreneur who was the principal promoter of this game of chance, a pastime in 1887 that became the Mexican national lottery. The origin of the 300-year-old depictions is shrouded in mystery, but most allude to life, love, hope and fortune.