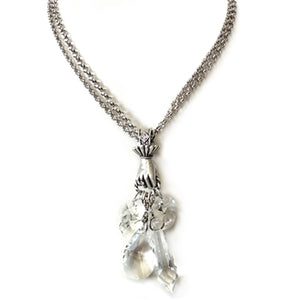 Exquisite three dimensional hand has flared cuff and finger ring.
The hand grasps a cluster of six crystal prisms and octagons, a pear and an elongated pointed drop.
A double chain of triple twist rope and vintage cable slide through the bail, set with square crystal.
Metal finish is pale burnished silver.
Signed. Trademark Sweet Romance USA
This is a clutch of quality crystal prisms. In flat indoor lighting, it twinkles and glimmers. In the sunlight and evening lighting, the refractive quality is dazzling. For everyday wear and enjoyment, this is truly a conversation maker.