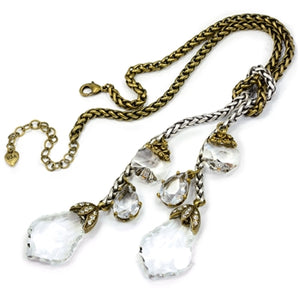 A sautoir of knotted bronze with crystal prisms, chandelier rosette and large faceted pears is reminiscent of the Roaring Twenties.
Prisms are held with crystal caps.
Lasso knot formed of 5mm round braid chain.
Lobster clasp closure.
Chain for neck is finished in burnished bronze. Chain holding glass elements is silver.
Signed and copyrighted Sweet Romance USA.