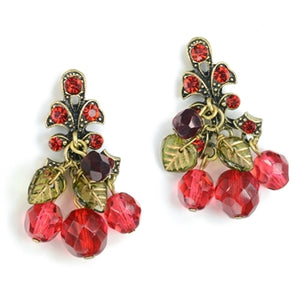 In the 1930s, larger, 'statement" costume jewels came into vogue. Wartime use of metal was tightly rationed, so designers created jewelry of glass, plastic, bakelite and wood. Figural themes, especially fruit, won immediate popularity. Cherries dominated the scene. They were clusterd in pins and encircled hats. Cherry Earrings were complemented by wearing Cutex's first ever red lipstick! Our cherries and leaves are Czech pressed glass like those of decades ago. Ripe for the pickin... Handfuls of luscious large faceted crystal cherries mingle with green glass leaves. Sweet and tart, bright red and deep burgundy. The cherry motif was the rage of the 1930s, at the same time Cutex first introduced red nail polish.
Earrings are post style for pierced ears only.
Burnished bronze metal finish.
Signed and copyrighted Sweet Romance USA.