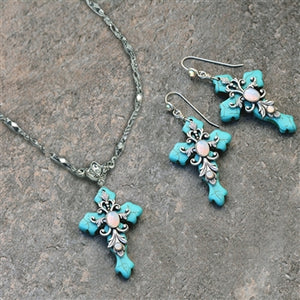 Find hope and renewal in familiar and evocative symbols of religion and love.
Turquoise cross is natural magnesite, accented with vintage opal glass stones.
Simple 'hook' earwire earrings for pierced ears only.Burnished silver metal finish..Necklace cross Length: Approx 1.5 inches x 1 inchEarrings are the same size as the pendant
About the Cross:
Since prehistoric times the cross has symbolized life, fertility, health and immortality. Like many symbols, the cross represents a broad spectrum of ideas. It is viewed as a coordinate where north, south, east and west come together. It also joins the four elements of earth, wind, fire and water. It was thought to have symbolic meaning prior to acquiring its Christian symbolism. Today the cross is known as a spiritual, protective and ornamental emblem throughout the entire world.