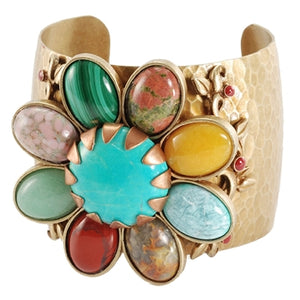 Vibrant color oval cabochons make up this beautiful western flower's petals. Colors include tangerine, forest green, hot rose, olivine, warm yellow, fuchsia, ultramarine and orchid.
The daisy's petals surround a turquoise round center cabochon.
Texture cuff that can be formed to your wrist 6" - 8."
Metal finish is burnished bronze.
Signed and copyrighted Ollipop, a division of Sweet Romance USA.