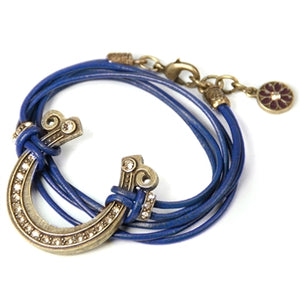 Our reversible horseshoe has a curve of crystal embedded on one side and the engraved message get lucky on the other. Premium leather cord is 20 long to wrap multiple times around your wrist OR wear as a necklace. A super gift idea for someone who could use a horseshoe full of luck, hope and positive energy. Just
the thinga lucky horseshoe, talisman of the ages, to accompany you on your
daily journey and help you to look at misadventure on the bright side. Who
hasnt kicked up a little dirt and caused a ruckus or two?! Click to Shelley's blog entry We cruised through New Mexico with windows wide open.
Scorching heat created a shimmery haze on the distant road and it bleached the
desert sky a faded aqua blue
read on and share your
thoughts
This bracelet is from my Ollipop Goes Country collection, sure to lasso your heart and imagination. Each
design is infused with southwestern flavor and colors of the earth,
with
symbols, creatures and natural gemstones. Lovingly hand-worked by the artisans
of our studio.