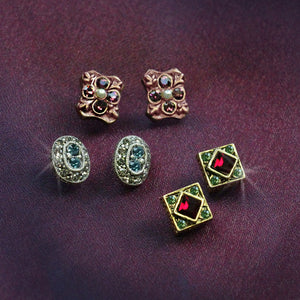 This is a set of 3 pairs of detailed baroque style post earrings. Each
is a different shape and metal finish and all three match our Canterbury necklace and bracelet as well as our slide bracelets.
The ovals, set with crystal in deep aqua and icy clear, are finished
in burnished silver. The squares are plated in 14K gold and set with
garnet squares and peridot corners. The quatrefoil pair, in copper, has
amethyst purple stones and seed pearls. Posts are hypoallergenic steel.
Made in our Los Angeles studio.