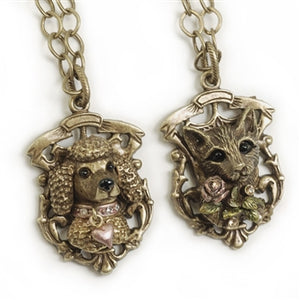 Original sculptures by Shelley Cooper present a poodle and siamese cat with eyes that look right into your heart.
Cat and dog best friend pendants are great gifts for any animal lover!
Their fur is delicately lacquered and their eyes are jet enamel.
Pendant is 1-1/2" long
Burnished bronze or silver metal finish.
Signed and copyrighted Sweet Romance USA.