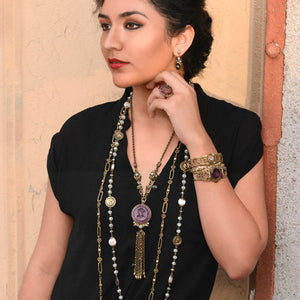 GET THE LOOK! This is for a set of 3 necklaces. All three both distinct and stunning. Mesmerize those onlookers of these 3 necklaces that lay on your neckline so effortlessly.åÊ
Nothing says vintage romance like a large amethyst intaglio and chain tassel that sways with your every movement!åÊLarge 1.5" round glass intaglio is set in an open bezel. The intaglio is a reverse cameo with an incised, etched image and is handmade, using the very same process used by Bohemian glassmakers of the last centuries. Open back setting allows light to fill the intaglio. Fancy tassel is entirely hand fabricated using soldering techniques popular during the 1920s.Lobster claw clasp.Burnished bronze metal finish. Signed and copyrighted Sweet Romance USA.
Beautifully packaged and ready to gift. Includes Lifetime Warranty card and tags. Made in USA and ships direct from our Los Angeles studios.