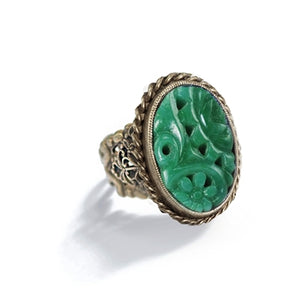 Fascination with the Orient in the 1920s and 30s spawned a fashion and decorating craze known as Chinoiserie.Our dynasty-inspired Vintage Jade Glass Deco Ring features vintage carved glass jadeite in a rope top bezel.
The glass is limited, so once it sells out, we can't get any more!A true Shelley Cooper limited edition.Burnished bronze metal finish.
Adjustable for ring sizes 6-9.
åÊ
From our Artifacts Ring Collection featuring old world icons of beauty, mystery and a hint of magic. Enduring symbols of legend, inspiration and guidance, they connect past with present for this journey called life. Using traditional bench techniques, every ring is hand-fabricated with artistic sculptures,gemstones and crystal from our rich archive of jewelry artifacts.