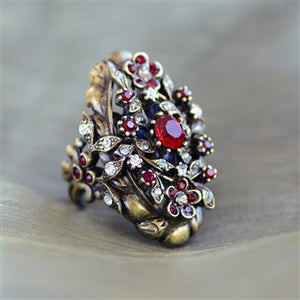 An exquisitely sculptured floral motif ring.Round cut crystal in garnet and smoke are positioned in their graceful settings.A faceted Czech garnet stone rests in the center.
Metal finish is burnished bronze.
The ring measures 1-1/2"L x 1"W. Adjustable for sizes 6 - 10.
Signed and copyrighted Ollipop, a division ofSweet Romance USA
Shelley's comments: Please visit my column on Garnet Red Jewelry to enjoy some interesting notes.