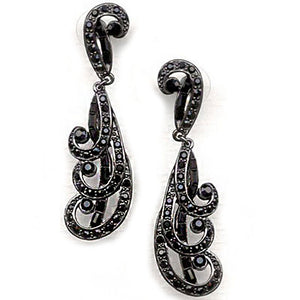 Curlicues of crystal create a hauntingly beautiful earring silhouette.
It echoes the look of smoke clouds illuminated in the night sky.
Curlicues form a traveling pattern of light which moves subtly with your every movement. Post style for pierced ears. Finished in black gunmetal with jet black crystals.
Objects of desire: the Elvira Jewelry Collection Elviras many fans and admirers frequently ask for advice on how to give their own look a little edge. Her secret is jewelry. Now, everyones favorite Vamp brings her special brand of magic to women worldwide, conjuring up mystery, seduction and glamour. Her collaborator is American designer and manufacturer of world-class fashion jewels, Sweet Romance. Passion emanates from each piece, blending fascination of the dark side with timeless beauty. Mesmerizing sculptures, sophisticated silhouettes and quirky themes capture the essence of Elviras signature style. Extraordinary artistry, imagination and hand craftsmanship make each piece unique, perfect for today... and all eternity.